This page was print from webpage of education CountryFile project.
url: http://edufile.info/index.php?view=school_systems&topic=topic_general_infos&country=18
School systems
Italy
Country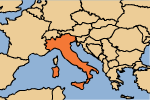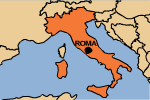 Italy (Italian Republic) is a country located on the Italian Peninsula in Southern Europe with its two largest islands in Mediterranean Sea. The country covers an area of 301,318 km² and its population comprises of 59.45 million people. There are 2 microstates inside the territory: the Vatican City and the republic of San Marino. The official language is Italian.
Overview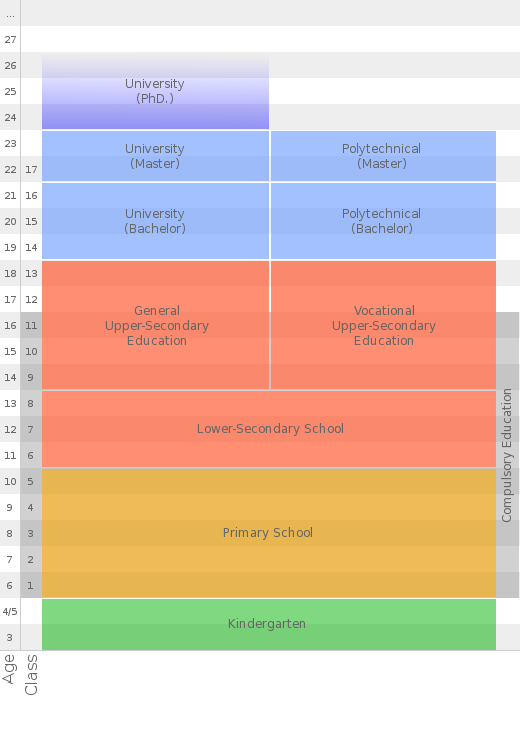 There are almost 70 thousand schools in all levels of education, of which 15% are private institutions. Primary education is run by the cities, secondary by the regions and the universities by state.

Education is compulsory from 6 up to the age of 16. At the age of 15, there is a possibility to choose an alternation school-work. It's free of charge (only tuition). There are two nationwide exams - one at the end of lower secondary school (age 14) and the other one at the end of upper secondary school - Maturità (age 19). Home schooling is not allowed before the age of 16 (for the compulsory education).
Kindergartens
Italian system of kindergartens is the infancy school. There are more then 33 thousand infancy schools (of which 25% are private). Children have to be 3 years old to attend but it is not compulsory.

Primary schools
There are about 20 thousand (of which 8% are private) primary schools. The school itself is divided in 1+2+2 year cycles, when the first is a base year. There can be from 10 to 25 students in class, if disabled student is present, not more then 20 are allowed. There are two types of curricula - "modulus" with 27-30 hours/week and the "full-time" with 40 hours/week. Religion classes are not compulsory. There are no leaving exams/entrance exams to lower secondary schools.


Secondary schools
There are about 8.5 thousand (of which 8% are private) lower secondary schools. It is made up of two year study course and one year for orientation towards upper secondary schools. School starts at 8:00 a.m.. The total amount of classes per week must be 30 - this can be split between Monday to Saturday. Some schools have only 5 lessons a day 6 days a week, the others have lessons also in the afternoon with free Saturday. Religion is optional. At the end of lower secondary school there is a state exam, which should help the student to make the selection of the upper secondary school.

There are almost 8 thousand (of which 18 % are private) upper secondary schools. There are two types of upper secondary schools - general and vocational. This two system are connected up with universities, higher artistic, musical, dancing education schools, higher vocational education and the labour market. At the age of 15, students can choose an alternative to school - work or do an apprenticeship getting qualifies or diplomas.

There are several types of high schools, called LICEI
- classic liceo (where students learn greek and latin),
- scientific liceo,
- fine arts liceo,
- foreign languagesliceo.
- economic liceo,
- technological institute,
- musical liceo,
- human sciences liceo,
- psychopedagogic liceo.

The high school system ends with a state exam, needed to enter universities and higher schools. Some institutes, in the context of the schools autonomy, can introduce particular subjects in order to improve the curricula of the students.
Higher education
There are 58 public universities, 4 public polytechnics, 9 private organised universities, 3 public funding universities, 4 church organised universities, 11 non-state IT universities and 8 colleges/higher quality education/excellence institutes.
Universities are generally divided into a number of faculties and schools. For all non-state schools entrance exams are required, for some state schools too as well as for the excellence institutes.
Disabled students
Total inclusion. Disabled students or students requesting assistance are included in regular schools. In primary schools, "their" classes cannot have more then 20 students, during secondary schools a tutor (supporting teacher) must be provided for them. In the meantime also all the school premises are changed in order to facilitate all students.
There is a ministerial act (Legge Quadro sull'handicap n.104 del 5 Febbraio 1992) concerning this issue.


Developments
Since many years all the italian governments underlines the necessity of restructuring the school system. In the last decade many attempts have been made, but none was successful mainly because of the instability of the governments.

The last reform project by minister Moratti (October 2005), in direction to privatisation of education and selection of students following their merits, was besieged by one million students. Majority of this reform steps ware cancelled by the next left-wing government, the age of compulsory education was raised to 16. Now there is again a right-wing government, return of "Moratti" reforms is expected.